Consumable & Disposables
PERSONAL PROTECTIVE EQUIPMENT/APPAREL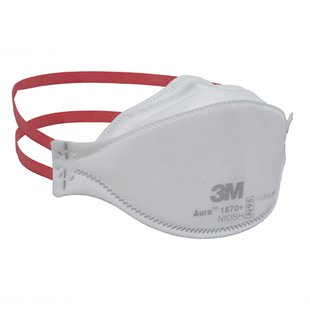 3M HEALTHCARE PARTICULATE RESPIRATOR 1870
S-C-S3S-1870
Descriptions:
Has a comprehensive range of disposable respirators suited for the health care environment.
Have a lightweight, flat fold, three panel design that allows for greater facial movement and comfort for the wearer.
High performance filter media combines effective filtration with low breathing resistance.
Providing a secure seal around the nose while offering comfort and helps to reduce eyewear fogging.
Provide an even strap pressure to improve comfort on the neck, face and head.
Customisable embedded aluminium nose clip provides a secure fit to suit a broad range of face sizes.
Have individual hygienic packaging that protects each respirator from contamination before use and allows for easy storage and dispensing in the workplace.
Latex and cellulose free and contains no glass fibres.
Approriate for varius clinical areas where health care workers require protection.
Brand: 3M
Packing: 20 PCS / BOX
---
Our Brands: